Evidence summary – for health practitioners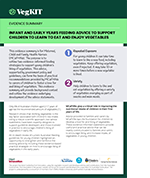 This evidence summary, for those involved in practice, such as maternal, child and family health nurses, outlines two evidence-informed strategies to support young children's liking of vegetables. The advice can form the basis of practical recommendations provided to carers of children.
For a print friendly version, click here.